A clientflow is something you already have as an independent business owner. Understanding it empowers you to improve the way you interact with clients and run your business from the initial interaction to project closure. Learn more and download our free process mapping template to optimize your clientflow!
Providing a service tailored to a client's needs is an interactive process between an independent business and a client. This type of commerce involves several critical steps to obtain the information and alignment required to achieve a successful project outcome. Think of the services offered by graphic designers, photographers, business coaches, marketing consultants, virtual assistants, and much, much, more.
The term used to describe this process of selling and delivering specialized services personalized for individual clients is called a clientflow. Clientflows include both the client-facing and back-end work that go into every project—like sending proposals and contracts as well as communication, service selection, and payment.
Just like ecommerce happens in an online store, personalized services happen through a clientflow.
Though this might be a new term for you, if your business is based on delivering your talent as a service to clients you already have a clientflow.
Jump To:
Why think of your process as a clientflow?
The term clientflow isn't about reinventing the wheel, instead it simply allows you to think of the bigger picture of how you run your business. Understanding how your internal processes and client experience come together to create a seamless journey can help you work more efficiently and build stronger relationships.
Think of a clientflow as the merging of what you consider your workflow, or back-end processes, and client journey, or front-end processes. It considers all the steps your clients take as well as the internal workflows you use in the background.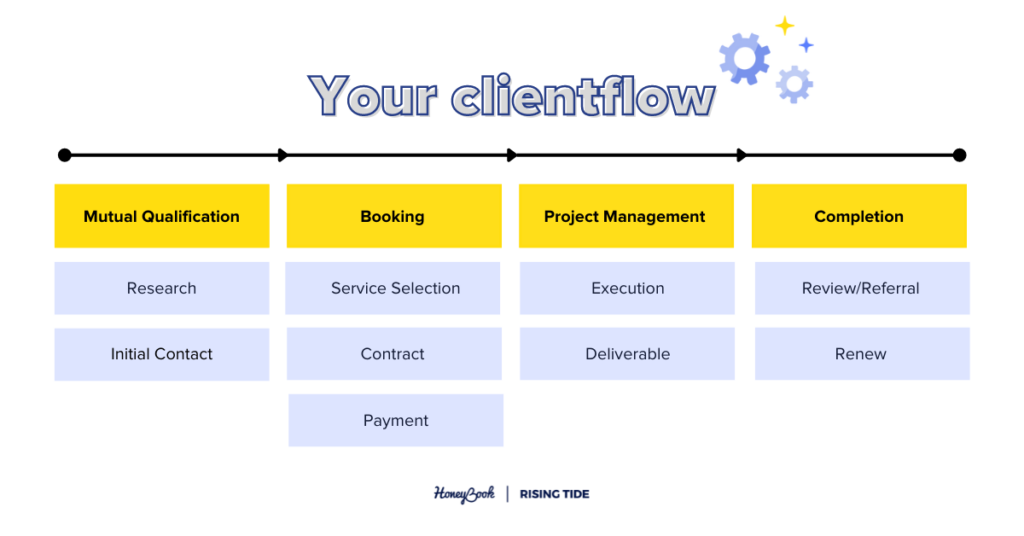 For example, before you even start a project, your client has to discover your business. Then they likely go through your onboarding steps, like filling out an intake questionnaire, signing a contract, and paying for your services. At the same time, you're completing steps like responding to their inquiry, creating a proposal, and sending an invoice.
Independent business owners might have different clientflows for different types of services and clients, and optimizing each one allows you to offer a more personalized experience. For example, a graphic designer might have a clientflow for web design, logo design, brand design, and more. Similarly, a photographer might have separate clientflows for wedding photography, portrait photography, and family photography. The core steps inside each clientflow might be the same, but the experience will be tailored to each client type.
Thinking about your process as a clientflow empowers you to work more efficiently and provide for your clients at every step because it makes you aware of all of the dependencies required to make a project successful.
What are the steps inside a clientflow?
Though every business varies, your clientflow will likely include the following steps:
Mutual Qualification
Client Research
Initial Contact
Booking
Service Selection
Contract Signing
Invoice and Payment
Project Management
Execution
Deliverable or Service
Completion
Renewal Decision
Making a Recommendation or Referral
Mutual Qualification
This is the earliest stage in your clientflow that happens before you become aware a potential client is interested in your services. During this phase, both you and your client are gathering information about each other.
Client research
Your potential client has a need they're looking for a service provider to meet. To find the independent business they trust to accomplish this task they're browsing social media, searching online, and asking friends for recommendations. Your marketing efforts like SEO, social media, and digital advertising can all help a client discover your business during this information-gathering step.
Initial contact
A potential client has reached out to you, through a contact form on your website for example, to learn more about your pricing and services. At this stage, you should have a clear process for communicating with your leads efficiently, but you should also be deciding if they're the right client fit for you as well. Vetting clients and reaching a mutual qualification is so important for service-based businesses because they're relationship-dependent.
Booking
Once you know a potential client is a good fit for your business, you can move forward with the booking process. These administrative steps are important to set expectations and protect your business.
Service selection
You've had the necessary conversations with your leads or pointed them to the right information, and they're ready to make a purchasing decision. At this step, they'll consider the initial impression they got of your business and which services best fit your needs along with your reputation, pricing, and more.
Contract signing
You're both ready to move forward, but you need to set expectations first. It's important that your clients always sign a contract before you begin working together so you know they're agreeing to the scope of work, pricing, timeline, and more. A contract is also how you'll protect your business from anything unexpected.
Invoice and payment
Sending an invoice and collecting payment might seem like an easy step in your clientflow, but it's important to do so professionally. Your clients expect to experience a seamless payment process, especially in today's digital-first world, so providing one won't set your business apart. However, precisely because they expect it, delivering anything less than seamless can have a dramatically negative impact on a client's impression of your business. They'll notice if this step feels difficult, or worse, unsecured.
Project Management
As your project gets underway, you'll need a process to keep your client informed as the work progesses and to ensure you have everything you need from them to deliver the final result to your highest ability.
Execution
Communication is key through your clientflow, but it's especially important once the work has begun to ensure project alignment, progress reporting, and relationship building. Make sure you're communicating with your clients consistently in their preferred methods and meeting their needs every step of the way.
Service and deliverable
For most types of independent businesses, you likely offer a service that leads up to a deliverable (like graphic design, event planning, and photography). When your client receives the deliverable or service, there shouldn't be any surprises or difficulties, which is also why communication is so important.
Completion
You may think a project is complete once the service has been rendered or final result delivered, but there is a final phase in your clientflow. It is critical to your business outcomes and includes asking for reviews or referrals and, if applicable, offering renewal.
Making a review or referral
You've put all this time and energy into cultivating and providing an exceptional client experience, now ensure you're leveraging that positive impression to entice future clients by asking for a recommendation or referral. If expectations were met, and ideally exceeded throughout the clientflow, it's highly likely your client will agree to writing a positive review and/or make a referral.
Renewal decision
For many businesses, you have the possibility of offering more services to clients. Perhaps you've already designed a logo but there's a good fit for web design as well, or maybe you've completed an initial consulting project and the client is interested in keeping your services longer. If this is applicable to your business, clients will consider every step of the clientflow to decide if they'd like to work with you again in the future.
How do I create a clientflow?
As mentioned, most independent business owners already have a clientflow (or more likely, multiple clientflows). Unless you're a brand new business, you likely have a process of how you communicate and exchange information with your clients to get from first inquiry to final payment and referral.
So you may not necessarily need to create a new clientflow but rather think about how you can optimize your existing processes to create a more streamlined experience that takes the entire client journey into consideration.
Start by documenting your current or desired clientflow. Consider each step that we listed above and ask the following questions:
How do your clients find you?
This is where you can optimize your marketing to gain more leads, whether it's through your website, social media, or other.
How do you follow up with leads?
Consider how long it takes to follow up with leads when they initially contact you. You can optimize here by using automations synced with your contact form and an updated scheduling tool to send and keep the conversation moving forward.
How do your clients select services?
If your clients already know what services they need by the time they contact you, make sure your pricing and service packages are clear on your website or elsewhere. If they need a little more assistance, you can build custom proposals that help them decide what to choose.
How do you book your clients?
This process looks different for everyone. You might send your contract first and collect full payment, or collect a deposit and wait for full payment later. By understanding the process you use, you might find that you can combine multiple steps to book even faster, such as sending an online proposal that contains both invoice and contract.
How do you communicate throughout a project?
Depending on your services, you might need constant contact with your clients or just a few milestone touchpoints. You may find that you're communicating the same things to multiple clients, so you can benefit from automation at this step as well.
How do you close your projects?
When you finish projects, are you trying to maintain the relationship? There should be some next steps beyond "thank you," whether you're asking for reviews online, offering additional services, or adding them to your nurture emails.
Documenting your clientflow is an exercise in understanding your business processes better. This will take some time, but it'll be worth it in the end. To make things easier, use our process mapping worksheet. It will guide you through many of the same questions above and help you think through what you're already doing as well as which steps you can optimize.
How can I manage my clientflows?
Thinking of your process as a clientflow is about understanding the complete client experience. The best way to manage each step in the clientflow is with a tool that can address them all: client communication, scheduling, creating and sending essential files, processing payments, and more. With HoneyBook, you can build and manage your clientflows all in one place. Regardless of how you structure your clientflow, there's a HoneyBook feature for each step:
Initial contact – Embed a contact form on your website or link it in your social media profiles to capture leads in all the places where they find you. You can also link to your meeting scheduler to seamlessly set up intro calls.
Service selection – Create pricing guides or sales brochures that help potential clients understand exactly what you offer, tailored to their needs. You can also build questionnaires to capture more information so you can guide their service selection efficiently.
Contract signing – Send contracts populated with your clients' service selection and use templates with the clauses and terms appropriate for your business.
Invoice and payment – Send an invoice that allows your clients to pay online seamlessly while also letting you set up recurring payments and reminders to automate the process.
Communication and work process – Sync your email with HoneyBook to view client communication in one place and trigger reminders for each deliverable or project milestone.
Deliverable or service – Use the calendar tool to track deliverables and milestones, and automate internal reminders for each step, whether your service is an event, a digital product like a logo or website, or a long-term project that may include consulting and one-on-one support.
Making a recommendation or referral – Create automated emails that are triggered at the end of a project to remind clients to review your service or offer incentives for referrals.
Renewal – There are multiple ways your clients can renew with you, whether that means moving forward with an additional service, expanding the current project, or offering an add-on. Turn on recurring payments or easily adjust your proposal templates to renew and kick off new projects.